Important Covid-19 Information For Our Customers.
These are challenging times indeed, as news and updates on the novel coronavirus, COVID-19 continue to come in rapidly our team is working together to make sure we are ready and able to assist our customers in a responsible way. Our priority is to maintain a safe work place for our employees but also provide the services and products our customers need. Here are some ways we are able to assist:
1. Our staff are routinely cleaning and disinfecting high touch surfaces throughout the dealership
2. Any of our employees that are able to, will be working from home
3. SERVICE AND PARTS
a. FREE Pick-up and Delivery of customer vehicles to the Quick Lane and Service Shop within the areas of Lacombe, Blackfalds, Clive, Mirror and Bentley
b. The Quick Lane Tire and Auto Centre's reception area is closed to the public Monday - Friday, however the technician bays are still open to accommodate our customer's vehicles. Monday through Friday the Service Advisors are available in the dealership at the main shop to check-in vehicles and coordinate service appointments (Saturdays please go to the Quick Lane which is open 8am-1pm).

b. Our technicians and driving staff will wear gloves while in contact with the vehicle and will wipe down and disinfect high touch areas before returning (door handles, steering wheel, gear shift, etc.)
c. FREE delivery of parts within Lacombe, Blackfalds, Clive, Mirror and Bentley
d. Paperwork can be done 100% remotely and payment can be made over the phone with a credit card. If this will not work for you, please contact us to discuss other options
4. SALES
a. All paperwork, credit applications can be done remotely.
b. We are prepared to provide our customers with re-financing options to take advantage of low interest rates to lower payments
c. We will pay top dollar for trade-ins. If you require a vehicle downsize or lower payment option, we will work with you.
d. If you have a loan through Ford Credit and need assistance, we can provide you with information on their efforts to assist customers
e. Our Sales team will wipe down any vehicle we bring to you for a test drive or delivery within Lacombe, Blackfalds, Clive, Mirror and Bentley
As we all navigate these ever-changing waters, please stay tuned to this page for any changes and information. As always, our priority is our people and our community's health and safety. We will stay vigilant and up-to-date on best practices and measures required by the Alberta Government and Health Organizations. If we are able to assist you or you would like more information please contact us. Thank you.
---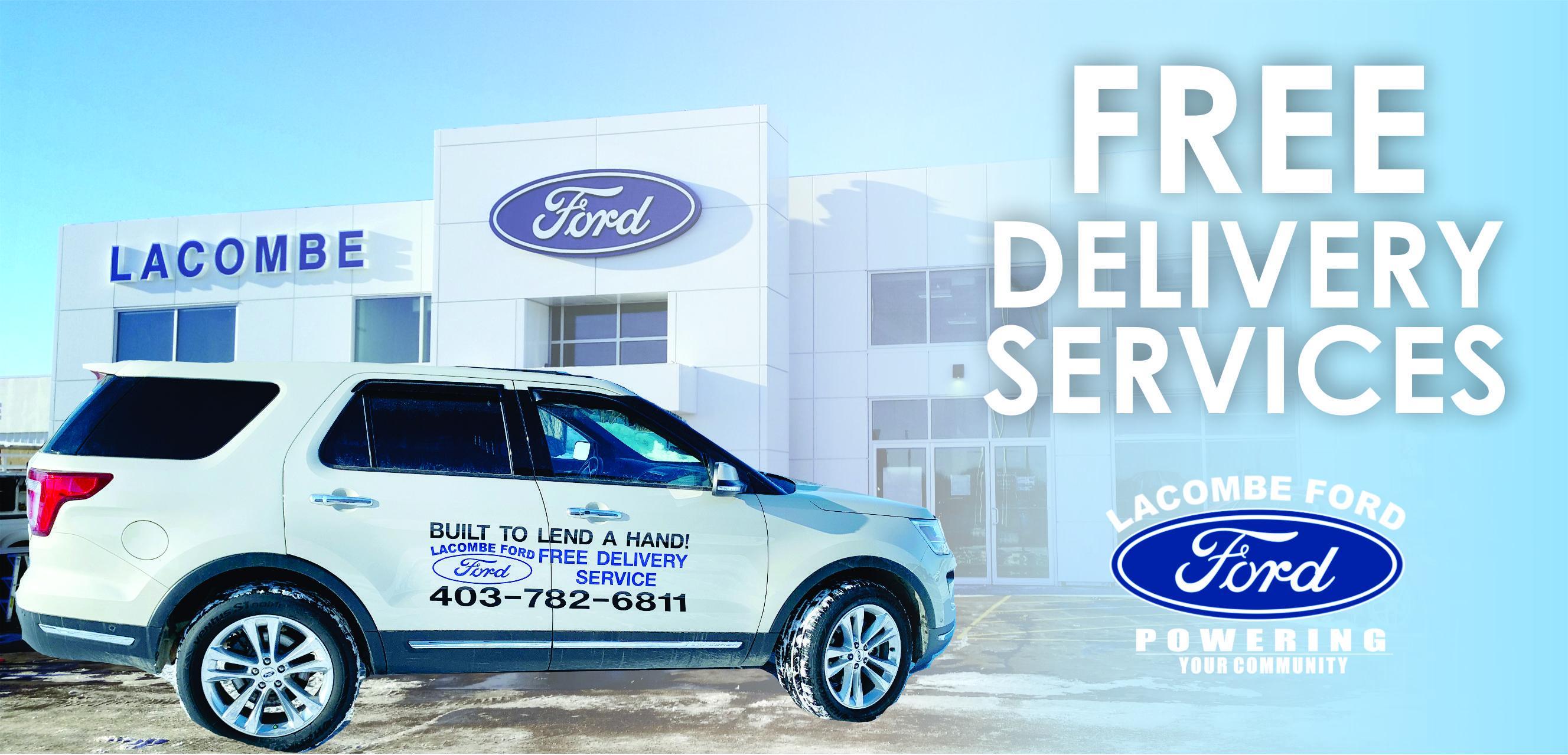 ---
Errand Service Now Available!
Life drives on, and Lacombe Ford is here to LEND A HAND. We will get through this together. At the dealership we need to support the community where we live and work.

We know many people are unable to leave their house and we want to help. Lacombe Ford is offering free of any charge, an "Errand Service". If you need groceries picked up, Pharmacy pick-up or shopping done for you, our team wants to and can do it. We want to help and we will keep it simple. Provide us with a list of what you need and we will get it done for you, absolutely free of charge. You will only pay for the products we purchase on your behalf – receipts provided. If you pay the retailer directly, we will not collect anything from you. We have a mobile debit machine that we will bring when we deliver, or you can reimburse us by paying over the phone with a credit card and we will drop on the front step. Unfortunately, we will not be accepting cash – and no tipping 😊.
We are practicing proper social distancing. We have disinfecting wipes and gloves for our staff to wear. If you or someone you know needs assistance with their errands, please contact us by phone. Phone the dealership and tell us, "YOU NEED US TO LEND A HAND". Our team will take your order or direction, we will confirm it by text or email, and we will execute the request to the best of our abilities. If you provide us with an order before noon, we will have it to you by the end of the day. Any requests after noon, will be taken care of the next day.
Call 403-782-6811 and say you want us to "LEND A HAND". We will get it done. Count on it!
Lacombe Ford – Powering Your Community
Home of Tires4Life